Photo by
Supplier
We've obtained authorization from the supplier or seller to use the product photo; they've guaranteed its ownership or legitimacy of usage, and we are held responsible for all actions Should you believe that the photo violates your copyright, please contact us with evidence, and we will take action immediately 
Report Copyright Infringement
Women's Choker Necklace - European Necklace Jewelry For Party, Daily
#539728
USD $4.39
USD $5.71
24% OFF
Women's Choker Necklace - European Necklace Jewelry For Party, Daily
This product has been removed
| | |
| --- | --- |
| | Brand Introduction: Z and X were two genius in college majored in arts,the same interest in jewelry art brought them together and became best friends. They created Z&X after graduation,to help people all around the world to get the best jewerly they could offer with acceptable price,and make the world a little bit more colorful. |
2.
Jewelry Type: Choker Necklace
Specifications
Gender:

Women's

,
Material:

Alloy

,
Style:

European

,
Occasion:

Daily

,

Party

,
Jewelry Type:

Choker Necklace

,
Color:

Gold

,
Net Dimensions (cm):

13.5*4.5*0.5

,
Net Weight (kg):

0.054

,
Shipping Weight (kg):

0.054

,
Package Dimensions (cm):

22.000*5.000*1.000

,
Frequently Asked Questions
Q: How to Choose a Choker Necklace?
A: Chokers are necklaces that sit tightly around the neck. They are often made of fabric since they are so close-fitting, but there are many other styles and materials. Their constructions range from simple to ornate, and they frequently feature detailing like sequins, rhinestones, pearls or pendants. Choker necklaces can be a great fashion accessory when chosen and worn correctly. However, there are definitely some key points to keep in mind when choosing a choker that will look flattering.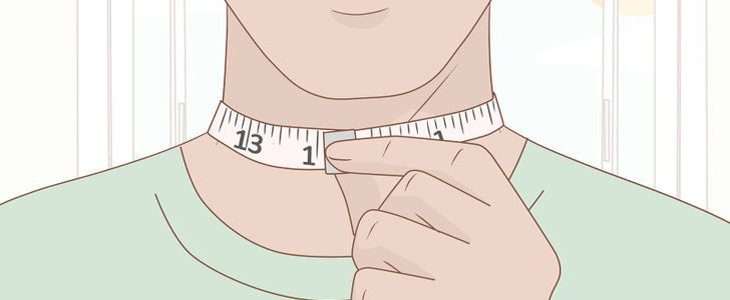 1.Measure your neck——Choker Length=Neck Measurement+2 inches
It's important to measure your neck before investing in a choker, since they are meant to fit relatively tightly. Take a soft measuring tape and loop it around your neck once. Be sure to hold the tape close to your neck – chokers should fit tightly, but they should be loose enough for you to breathe easily.A good rule of thumb is to add 2 inches (50.8 mm) onto whatever your neck measurement is. This will be a comfortable choker length for you.
The standard choker measurement is usually 14 to 16"(356 mm to 406 mm) in length.
Chokers can vary greatly in width from 3"(76.2 mm) down to just a small wire about 1/16 of an inch (4 mm).
2.Assess the length and width of your neck.
Chokers look best on those who have long, slender necks. If you have a very short neck, a choker won't look very flattering unless it's very thin and simple. If you have a wide neck, a choker is still an okay option as long as you choose a slim one; otherwise, you run the risk of making your neck appear even wider. The longer and more slender your neck, the wider the choker you can wear while still looking appealing.
A longer, more slender neck can wear chokers with more detail and gems.
If you have a wider neck, it is best to go for something a bit simpler.
If you have a short neck, it's best to avoid wearing most chokers at all, unless it's a very thin one.
Selecting by Style and Color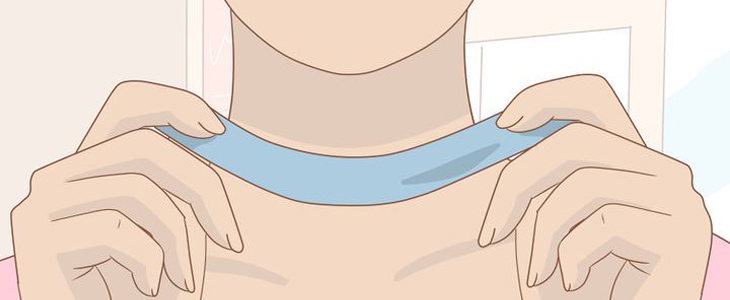 1.Choose colors that look best with your skin tone.
Hold different colored fabrics up to your neck and take note of which hues look best with your coloring. Some colors can cause your skin to appear washed-out or blotchy, depending on your particular skin tone. Once you've determined what these colors are, avoid them. Always choose the most flattering color(s) for you.
Black tends to look great on everyone, as well as most neutral colors.
Match the color of the choker's embellishments, like stones or cameos, to your eye color for a mesmerizing and unusual look.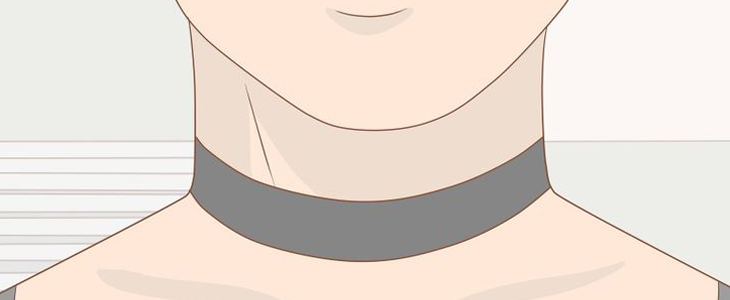 2.Go with a chic fabric choker.
Fabric chokers first became popular in medieval times, when women adorned their necks with simple pieces made of velvet or satin. This unique and lightweight choice has become extremely popular once again. The studded velvet black choker is a classic that's never gone out of style.
3.Select pieces made of leather, velvet or lace for a goth-inspired look.
A simple black choker made of velvet or lace creates a softer goth look, while leather versions have a slightly more alternative edge. The velvet and lace versions usually have embellishments like drop pearls, intricate chains, dangling pendants, tiny fabric roses, cameos, lockets and jewels. They range from very simple to incredibly ornate.
The leather versions are usually more simple, with a snap closure.
Studded leather chokers are popular in punk and goth fashion.
Try a cameo for a gothic-tinged Victorian or Edwardian look.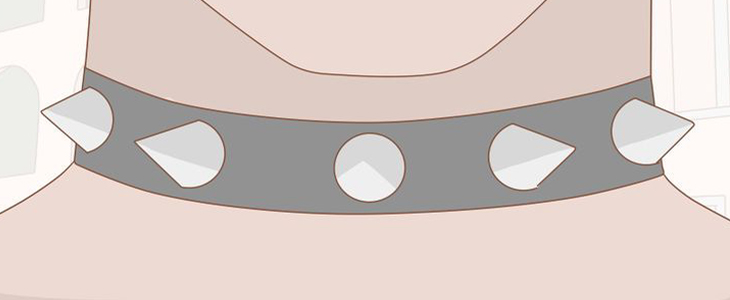 4.Go with a simple band for a masculine look.
There are fashionable choker options for men and masculine people, but you do need to be selective. Simple, solid bands look best – the most favored versions are usually made of leather, rope, or hemp. Those who enjoy punk fashions will look great with a dog collar style choker.
Woven hemp chokers have always been popular in surfer culture.
Some feature puka shells, which is another popular look.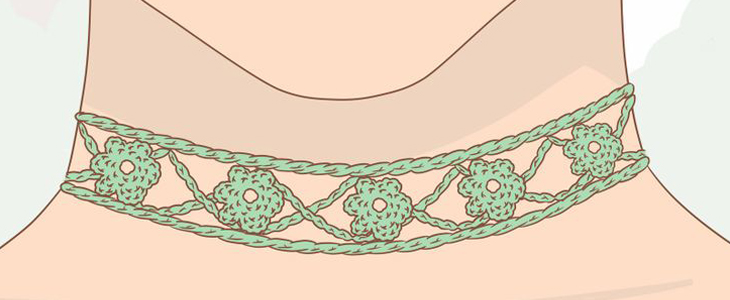 5.Achieve a Bohemian look with a crocheted choker.
These pieces are handmade and look very fashionable and creative, especially among those who love dressing in street styles. Pair a crocheted choker with a long Bohemian skirt for a look that is both feminine and carefree.
A crochet choker can make even a basic cotton top look unique and trendy.
They can look great with casual and formal outfits, so experiment a little.
Coordinating with Clothing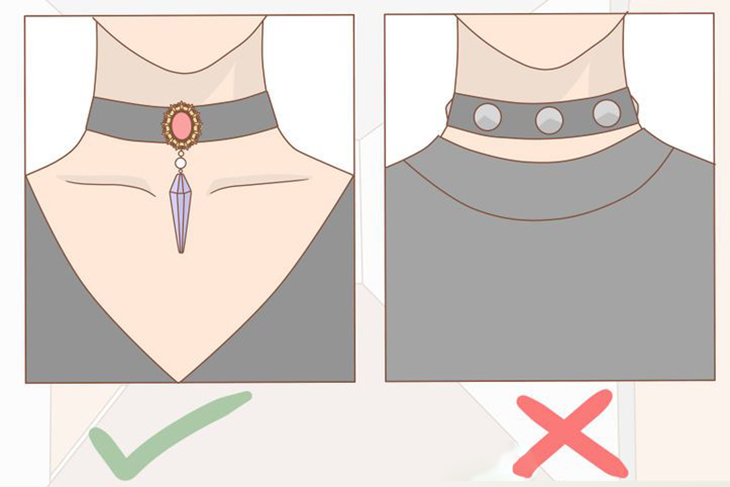 1.Consider the neckline.
The more bare skin is exposed around your choker, the more it will stand out, so definitely consider the necklines of your tops and dresses. Chokers are the most flattering with sweetheart, scoop, v-neck, strapless, off-the-shoulder and square necklines. For an alternative look, wear chokers with a top that leaves your chest and shoulders bare, like a corset.When possible, try selecting a choker design that coordinates with the neckline.
For example, you could pair a gothic choker with a point in the middle with a v-neck top.
Another example would be wearing a round-shaped choker with a scoop neck top.
Avoid wearing chokers when you're wearing clothes with high necklines, since they might snag your clothing and cause your neckline to look bulky.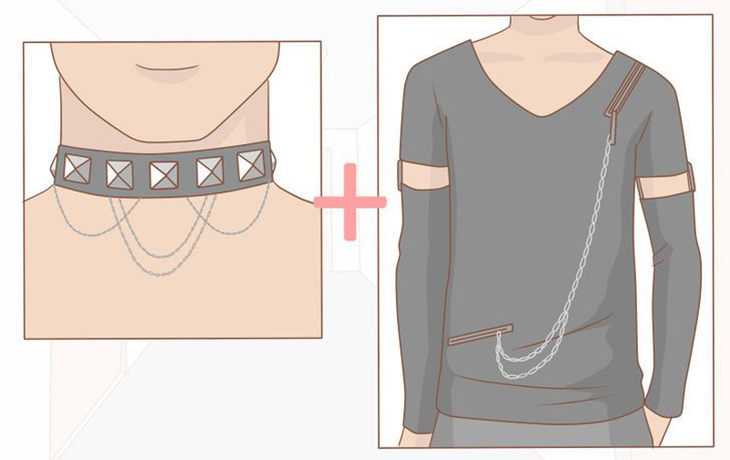 2.Match the choker style to your clothing style.
If you are into goth, alternative or punk fashions, choose chokers that reflect those styles. Velvet, lace and leather chokers all fall under that umbrella. Chokers also look fantastic with corsets and dramatic evening attire. Pair gowns with elegant pieces.
Burlesque dancers love to wear chokers with their stage outfits, since they're so flattering with that style.
Bohemian fashions work best with crochet and tribal chokers.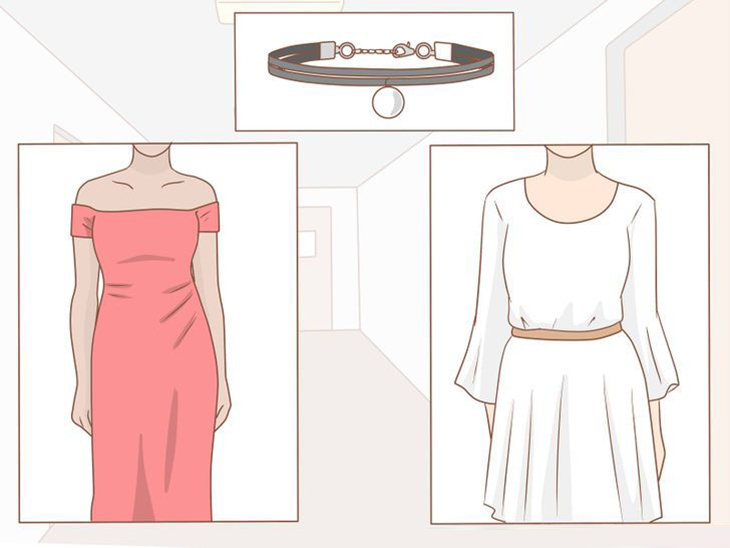 3.Choose based on whether you're wearing casual or formal attire.
Elegant evening wear works best with glamorous pieces that feature pearls, diamonds and ivory beads. Bridal wear is also similarly suited to those kinds of pieces. Fabric and crocheted chokers work best with casual Bohemian styles.
Chokers that are simple strands, featuring beadwork or other embellishments, can look great with both casual and formal wear.
A strapless formal gown can be made even more elegant with a delicate choker featuring translucent glass beads, crystals and gems.
Report Copyright Infringement
Report Copyright Infringement
Successful Submit!
Thank you for submitting this report We will process as soon as possible
A new item has been added to your Shopping Cart.